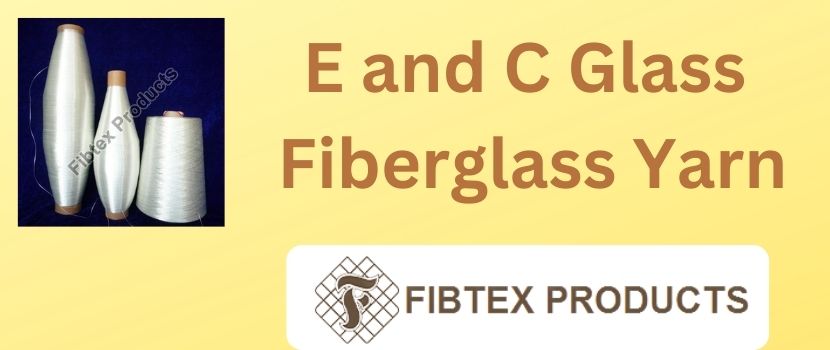 When it comes to the matter of fibreglass and glass fibre, it is necessary to mention that both are the same. It is a product that is produced from very fine glass fibres. Fibreglass is an element which is lightweight, incredibly strong and durable. Although the strength and durability of fibreglass are much poorer and less rigorous than carbon fibre, the product is normally much less brittle. Additionally, the raw material is much less expensive in comparison with carbon fibre.
When compared to metals, its huge strength and weight characteristics are also very favourable, therefore it can be effortlessly formed utilising moulding procedures. Due to its efficacy and unique characteristics, fibreglass is utilised in numerous industries such as beverages, aerospace, several manufacturing units, and many more. Hence, in this article, we are going to discuss the major advantages of E and C glass yarn which is nothing but a product of fibreglass.
Definition of E and C Glass Yarn
E and C glass yarn is a strong plastic substance made up of glass fibres entrenched in a resin matrix. E and C glass yarn is a textile material that is created with woven glass filaments. It is generally popular as glass-fibre reinforced plastic (GFRP) or glass-reinforced plastic (GRP). E and C glass yarn is famous for its high strength aspect. These glass yarns are formulated with glass that is also used to make windows and drinking glasses.
The glass is warmed until it gets transformed into a molten shape. After it has attained the molten form, it used to be passed through superfine cavities to form very thin glass filaments. For this reason, E and C glass yarn is so narrow that they should be counted in microns. You can easily get E and C glass yarn from any reputed E and C glass yarn manufacturer.
Fibreglass has a past of more than 50 years. E and C glass yarn is a lightweight, damage-resistant, inexpensive, easily made product. It has some decent mechanical features. The use of E and C glass yarn is quite prominent in different industries such as medical, automotive, recreational, and architectural industries.
Below are some of the considerable aspects of why E and C glass yarn is used globally for making numerous products.
Dimensional Strength
The first advantage of E and C glass yarn is nothing but their dimensional stability. E and C glass yarn is a dimensionally durable product. The most beneficial part of this product is, it does not decrease or spread after exposure to extremely high or low temperatures.
Moisture Resistant
The next reason behind the immense popularity of E and C glass yarn is its incredible moisture resistance aspect. When exposed to water, it never soaks moisture or alters physically or chemically. The characteristics of E and C glass yarn are unchanged under any such situations.
Great Strength
As we cited earlier, E and C glass yarn is used extensively around the world for their immense strength and durability. The huge strength and weight ratio of glass fibre make it a suitable component in uses where the least weight and elevated strength are crucial.
Fire Resistance
Many of us don't know that E and C glass yarn is an inorganic substances. It neither assists in an explosion nor burns itself. It retains nearly 25% of its prior resilience at temperatures of 540°C or 1000°F.
Chemical Resistance
Another notable feature of E and C glass yarn is their chemical resistance. Most of the chemicals have small or no impact on E and C glass yarn, but E and C glass yarn can be influenced by hot phosphoric acids, hydrofluoric acids, and powerful alkaline substances. Commonly it does not decay or get disintegrated.
Electrical Features
You may be surprised to know that E and C glass yarn include an extraordinary advantage of several electrical uses. has been confirmed to be an outstanding substance in electrical insulation use. The combination of features like huge strength, low moisture consumption, low dielectric constant and heat resistance makes it suitable for insulating varnishes and disseminated circuit boards.
Thermal Conductivity
The assortment of properties such as low coefficient of thermal development and thermal conductivity makes E and C glass yarn a safe material that quickly disperses heat when compared to organic fibres or asbestos.
Similarity with Organic Matrices:
The next feature which makes E and C glass yarn an appropriate option is nothing but its compatibility with organic matrices. E and C glass yarn is available in different sizes. When it comes to the matter of the compatibility aspect of E and C glass yarn, E and C glass yarn can be incorporated with numerous synthetic resins and even with specific mineral matrices like cement.
Damage-free
E and C glass yarn never decay or rot. It stays unaffected by the activities of insects and rodents. These E and C glass yarns are available at any well-recognised E and C glass yarn manufacturer.
So these are some of the major benefits of E and C glass yarn which makes them a worthy option.